VIRTUAL Women's Day On the Hill March 8, 2021
This year will be different, but in a good way. This year's WDH will be virtual which will allow many more of our members to participate.  Please REGISTER TODAY.  We need as many smiling faces on our zoom as possible!
We have 5 virtual meeting set up and I'm working on more.  Some of our meeting will occur during the Panel discussion.
Mostly, I would like to see as many folks as possible to attend the session from 11:15-Noon where each organization will present on their current bills.  This is such a great learning opportunity for everyone.
Please reach out to Lee Anne Carmack if you have any questions about the event.
Click here to view the AAUW-TN Public Policy Report.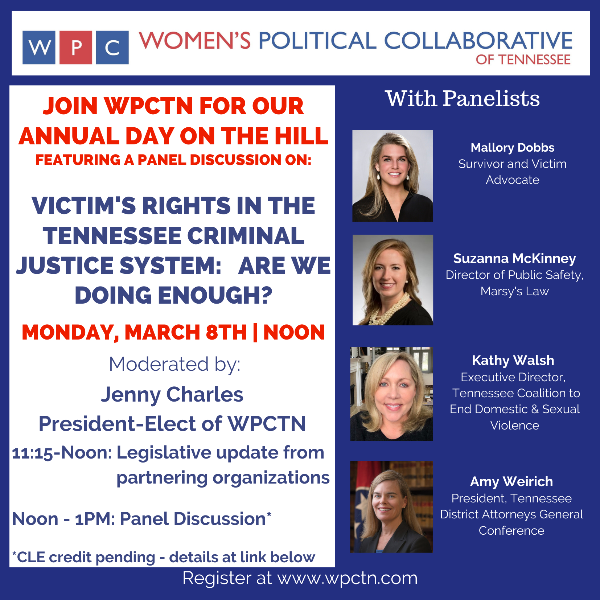 Bill Priority List
Active Lobbying efforts
HB0725 Eliminating the Salary History – As introduced, prohibits an employer from relying on, seeking, or requiring the wage or salary history of an applicant or current employee when making certain decisions related to hiring.
HB 0797 Raise the Minimum Wage – As introduced, increases, from $7.25 to $12, the minimum hourly wage for employees within the state.
HB 1404 Paid Family Medical Leave – As introduced, creates a program for paid family medical leave for state employees.
SB 1357 Reinstate the Tennessee Economic Council on Women
Also Supporting with email and call campaigns
HB0805 Distributing absentee ballots – As introduced, deletes a provision making it a Class A misdemeanor for a person who is not an employee of an election commission to give an unsolicited request for an application for an absentee ballot to any person. (with TN LWV)
Jim Coley Rape Survivors Protection Act – Gives rape victims the right to their rape kit information.
SB0003 Fair Maps Act Redistricting – As introduced, enacts the "Fair Maps Act," which establishes requirements for the process of redistricting congressional and general assembly districts. (with TN LWV)
HB0033 Ida B. Wells-Barnett Plaza – As introduced, redesignates the Legislative Plaza as the Ida B. Wells-Barnett Plaza.
Watching closely and/or Supporting in a group effort with other female-forward organizations
HB0786 – Permitless Carry (in conjunction with Moms Demand Action)
HB0011  – The Kyle Rittenhouse Bill – would allow the use of deadly force to protect property, even if not your own.
SB0204 – The fetal heart beat bill (in conjunction with Planned Parenthood)
SB0024- Adding feminine hygiene products to the tax-free weekend list
This year, we are working hard on getting more logo and name recognition on Capitol Hill.  We have reached out to the following organizations to offer our support for their efforts in return for support of ours.